Elisabeth Stevens Soprano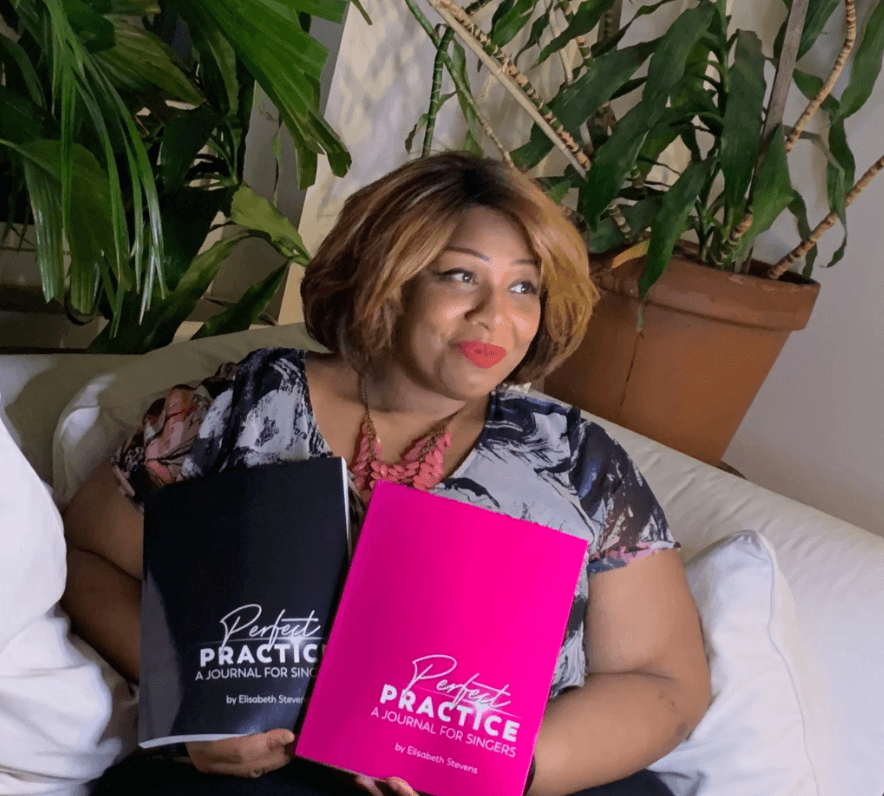 Perfect Practice: A Journal for Singers is a brand new tool that will revolutionize your artistry and/or teaching. Through using this journal, singers will cultivate and maintain healthy practice habits that will advance their technique and artistry beyond the studio, making them independent, consistent, confident artists.
WHAT CAN
PERFECT PRACTICE

DO?
Makes Practicing
Make Sense
Creates structure, accountability, process and routine.
Targets Holistic Focus and Reflections
Offers a place to focus thoughts and ideas – musical, dramatic and technical. Invites singers to reflect on their voice, their process and their progress.
Supports Artistic Development
Contains useful resources for learning, studying and memorizing repertoire. Includes relevant anatomy diagrams to support the understanding of the vocal mechanism.
Strengthens Student-Teacher Relationshipe
Provides inspiration and motivation along the way! Helps the teacher understand your student's process, progress, and VOICE.
Structured Guidance
For Students
Perfect Practice gives the singer the autonomy to accelerate their vocal development and artistic study by providing a system of structure and accountability around their vocal practice and repertoire study. Singers will more quickly grasp technical concepts by creating awareness and consistency in application, attentiveness to details and challenges, and encouraging curiosity and questions in the learning process.
Practice Habits
The journal pages in Perfect Practice are designed to create structure, empowering singers to direct their own learning through attention, follow up and accountability.
Goal Setting
By setting specific, measurable, attainable goals, singers will increase focus and direction in their study and preparation. Teachers will be better able to measure the student's progress creating a more objective and equitable learning environment.
Repertoire Analysis
Space is allotted for translation, IPA notation, historical documentation and artistic interpretation.
Visual Appendix
Detailed anatomy diagrams and IPA charts will help students understand the pedagogical references outside of the teaching studio.
I have been using Perfect Practice: A Journal for Singers for several months. It has revolutionized the way I work on music. My favorite part of it is the section where I can do all my translation and character development work because this is the work that so often gets lost in our practice. I would highly recommend this practice journal for all singers and voice teachers. It is unique in its concept, content, and design and it is something that has been missing for singers for so long. I am so excited to have added this to my tools as a singer!
– Beth Mirzai, Soprano
"Perfect Practice is an invaluable resource for any singer, especially those who are learning or need clearer guidelines on how to practice, as the art of practicing voice is often not taught or not taught fully. The book gives methodical and thoughtful suggestions and recommendations to guide you from the first steps of learning music, developing character, to having a plan for performance and helps you set goals that help you achieve the desired outcome. The book also has space for notes and reflections as well as pedagogical aids to help understand the mental and physical aspects that occur with singing. Whether you are a student, or teacher, emerging artist, or professional, I would encourage you to have this as a resource in your literature to guide or remind you of the thing that helps us get better at what we do."
– Diego Valdez, Tenor
Structured Guidance

For Students
Sign up to be notified of the next webinar which gives an in-depth presentation about the benefits of Perfect Practice: A Journal for Singers by author Elisabeth Stevens.
MORE ON PERFECT PRACTICE:

FROM WORKBOOK TO WORKSHOP
Give your students the advantage to succeed with
Perfect Practice: A Journal for Singers
Make Perfect Practice a required reading for your studio.
Available for purchase on Amazon.
Enhance your teaching capabilities
with a hands-on workbook.
Discounts are available for bulk orders (10 or more). Complete the request form below.

We respect your time and attention. We will keep your email address safe and notify you of important updates.
Complete this form to place a bulk order of 10 or more. See below for discount tiers. Once we receive your request you will be emailed with the next steps.